At Advantage Parcel Express, as a Third Party Logistics (3PL) Service Provider, we have made significant investments in our core capabilities to develop the people, processes, technology and infrastructure to provide our clients with value added services that they demand. As your business works to expand your market and increase your customer base, a strategic partnership with a 3PL provider who understands your business cycles is an invaluable asset. One of the reasons that Apex can act as your strategic partner is our ability to provide cost savings that your business needs to increase profitability, while still maintaining a high level of service for your customers.

Storage and distribution of your manufactured products is also available. We offer both scheduled and emergency distribution to satisfy your most demanding clients.
To improve our accuracy and efficiency, we use the latest in dispatch technology. This will enable you to conveniently schedule and track your shipments online. Our system will automatically provide you with up-to-the-minute shipment status.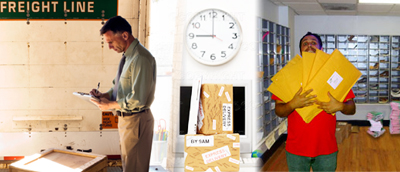 If you are planning to fulfill logistic needs of your business in the State of Arizona, please contact us. Before taking your business, we will make certain that we have the flexibility and adaptability to maximize your company's profitability and provide on time and professional service for you and your customers.

If you run a courier company that offers nationwide delivery and do not have a physical presence in the state of Arizona, choose apex as your delivery partner/agent. Our location is within a few minutes from Sky Harbor Airport. We are in full compliance with TSA regulation. Our dedicated, uniformed haz-mat certified crew will serve your customers with the best service that the industry can offer. We currently serve PHX, TUS, YUM & FLG.

Read Testimonials