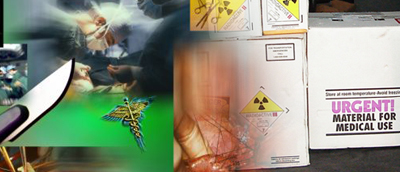 Medical and pharmaceutical products by nature are extremely valuable. Transporting these products requires an entirely different type of courier than regular packages and products. Some products need to be kept in a temperature controlled environment or require special equipment for handling and transporting. Next, there are many laws which govern the transportation of Biological Substance or Radio Pharmaceutical shipments, such as obtaining necessary permits and completing required paperwork to ensure that shipping is completely legal. Safety and security in handling and transporting all types of medical products is our main concern in providing on time delivery for our customers.


The advantage of doing business with Apex is that you will receive professional service from well trained and knowledgeable staff with years of experience in handling and transporting medical products. Be it diagnostic or research specimens; organs or tissue for transplant; pharmaceutical products, including radioactive materials; live laboratory animals; diagnostic equipment, such as MRI and imaging equipment; surgical tools; dental products; medical files or anything else, Apex delivers.

Advantage Parcel Express has been serving Industries including biomedical, human tissue and organ providers, radiopharmaceutical, equine reproductive farms, surgical, diagnostics and research centers for years. Our staff are trained and certified to transport biomedical products and have comprehensive knowledge of the specialized transportation care theses type of shipments require.